@
2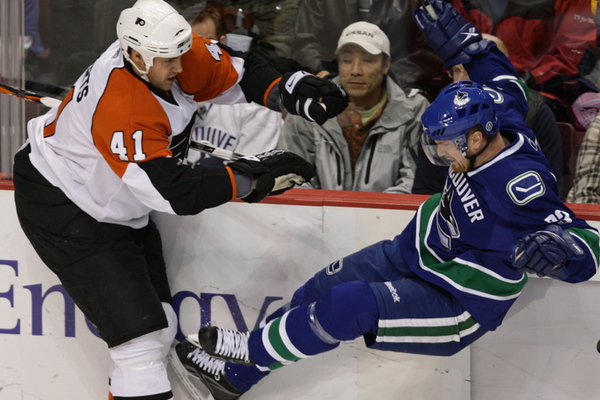 This was big. Getting off to a quick start in the first by getting two goals in the first period (double what the Flyers had scored in the first six periods of this road trip) was big. Martin Biron finally letting in fewer than three goals was big. Winning a game this isolated on the schedule was big.

But the biggest thing clearly is Simon Gagne getting knocked out of the game in the first minute. Obviously concussion worries are first and foremost any time Gagne goes down for the rest of his career, but this one didn't look too bad. He got up fairly quickly, and seemed to be clutching his shoulder more than he was dizzy or disoriented. I doubt he'll play in California, but I really don't think this wasn't the career ender it could have been.

Some thoughts:

Don't care that he lost the fight badly--how sweet is it to have a captain stick up for his teammates like Mike Richards does.
Been hearing his name forever as a prospect, and glad to see Claude Giroux getting out there and playing well. He is super quick and has incredible hustle on every play, and is just a little pinball type that is fun to watch.
Biron played real well, especially in the third. And those goals weren't stoppable shots. Nice effort for him, easily his best game of December.
Jeff Carter widens his lead for most goals in the NHL. Playing for the name on the back can be a good motivator even if playing for the crest on front is most important. Carter's clearly pretty excited to be leading the league, and it's the kind of quest that can really electrify a locker room.
Ossi Vaananen as third string goalie? That was some pretty sweet post-to-post.
If Carter has the best shot on the team, Scott Hartnell has the best slap shot. He beats goalies glove-side on shots better than anyone I can think of.
Garbagey goal to be sure, but nice for Jonathon Kalinski to get his first career tally, and a game winner no less.
Odd to see only one Flyer in minus territory in a one-goal game. That somewhat dubious distinction goes to Darroll Powe.
The orange and black tie on John Stevens was pretty sweet. Not that it's gonna reach any Guy Carbonneau levels, but it's a good look.
I don't think Bieksa's hit was that dirty, but it's total crap for Canucks TV to name him the #2 star of the game when all he did the whole game was knock out Gagne and then get in a retalliation fight with Richards. Give it to Kalinski for getting his first ever goal and the game winner, or give it to Ryan Kesler for that nice deflection on Vancouver's second.
The hell is going on with Vancouver's goaltending? They're without their franchise player Roberto Luongo, so they trade for a not great backup in Jason La Barbera and pull Curtis Sanford after a not-that-bad two-goal first period? I don't get it. But I'm embarrassed if I'm La Barbera. He's practically the Kings' #1 guy these days, and he got traded for a seventh round draft pick. That's unimpressive.
On to California. Worse places to spend New Year's than Los Angeles. Maybe they can find Rose Bowl tickets and go see Penn State beat up on USC?