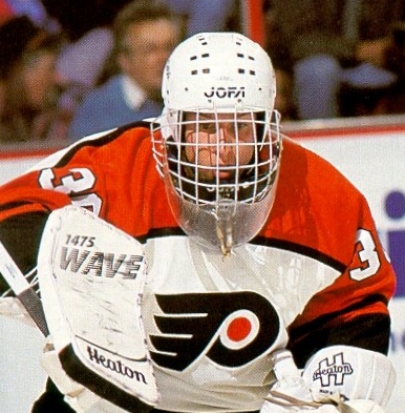 The Flyers are nothing if not good for a goalie controversy every few weeks. Over the last couple decades duels such as Soderstrom Roussel, Hextall vs Snow, Hextall vs Vanbeisbrouck, Vanbeisbrouck vs Boucher, Boucher vs Cechmanek, Cechmanek vs Esche, Esche vs Hackett, Esche vs Niittymaki, and now Niittymaki vs Biron.
Martin Biron's rise and fall as the Flyers' go-to starter is a lot like Brian Boucher's. Real solid run to the conference finals in his first playoff effort, then scratchy play in the regular season that gives the backup a window.
Antero Niittymaki was sort of named the starter by John Stevens last week, but in a way that was hardly written in stone. And then he played crappy against the Senators, blamed it on the flu, opening the door for Marty Biron to get back to back wins this weekend over the two teams from New York (the Islanders may be the better of the two at this point).
So who is it gonna be in the future? I say let 'em duel for it. There's really no way of knowing. Biron was solid in the playoffs, and if it's a push I say let him start the post-season, though on a short leash.
What say you?

(I really should rename this thing The Flyer Infrequent. My computer is back from repairs and running and midterms are over for now, so hopefully I'll be back to my regular clip from now on...Thanks to those of you who keep checking even in my hiatus.)