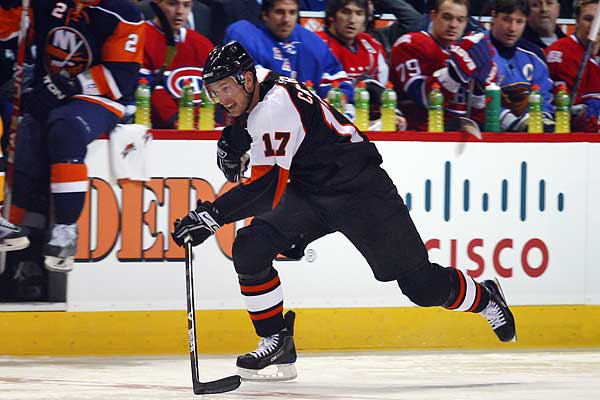 Sorry for the prolonged absence--pieces keep breaking off my computer, which is not a good thing. I'm trying to fix it myself, by just fiddling around with a screwdriver in an electrical appliance cluelessly (always a good idea). It's still not really better, but I soldier on...
So what happened while I was on hiatus? The Flyers beat the Thrashers (shocker),
Jeff Carter
was the second fastest in the fastest skater thing, Jeff Carter got knocked out of the breakaway contest in the first round with the worst shot anybody took the whole night, Jeff Carter did nothing in the All-Star game (except manage to keep possession of the puck for like 4:59 of the five minute overtime), Jeff Carter scored no goals, Jeff Carter came home with a #7 jersey I'm kinda surprised he chose since it's retired by the Flyers. (
Flyers Goal Scored By... does a much better job treating Carter's all-star flop with the snark it deserves
)
The other main thing that kept Flyers beat writers from getting time off over the break was more plot twists in L'Affaire Briere, with the Flyers seemingly forcing
Danny Briere
to get surgery so he could stay out of the lineup longer. That's a new one, even for the Flyers medical staff. He's out another four weeks, guaranteed, conveniently right until the trade deadline.
I have to think this is all leading up to trading Briere, or at the very least dumping
Glen Metropolit
for him. God, Metropolit is utterly useless, and his name is desperately missing a syllable. He has all of one goal this year in forty-two games. To put that in perspective, that's only one more goal than Lauren Hart has tallied.
Lastly, there was some nonsense about
Paul Holmgren
looking into getting
Peter Forsberg
back for the late part of this season. Because it was just SO great when he was here before, and he's SO not injury prone, and he played SO great for Colorado last year. With the Canucks getting Sundin, I think that's enough NHL scouring of Stockholm-area assisted-living communities for one season.
Flyers get to go on their second Florida trip of January (seriously, nice scheduling there) for a game in Sunrise on Tuesday, and Friday in Tampa.
But despite what will sum up to five straight games against the Southeast, the Flyers have the toughest remaining schedule of any team in the league,
according to some website
. That's never a good thing. All four games against Boston remain, plus four against the Rangers and a game each against Detroit and Calgary. Not fun.